Glazed Donuts by Loaded – 120ML
A warm right out-the-oven doughnut, topped with mouthwatering glaze. The greatest dessert of all time. Feast your eyes on the one and only Glazed Donuts by Loaded E-Juice!
Flavor 
| Tasting Notes
When you first inhale Glazed Donuts by Loaded E-Liquid, you will swear that you have just taken a bite out of a puffy, warm doughnut as the flavor of this savory baked good coats your tongue. As the taste envelops your palate, the sweet vanilla glaze will engulf your sweet tooth in the best way imaginable. On the exhale, a touch of cinnamon will take your taste buds to a whole new level. This vape juice was designed for those who can appreciate soft sugary glazed doughnuts, hot and fresh, right out of the oven. Transform your breakfast and dessert experience with this beloved treat. Just the smell of it alone will make your mouth water. Enjoy your 120ml bottle of Glazed Donuts whenever and wherever you want—order yours today!
Nic Level: 0MG, 3MG, 6MG
Doughnut
Bready, doughy goodness.
Sugar Glaze
Pure sweetness
Features
 | The Loaded Promise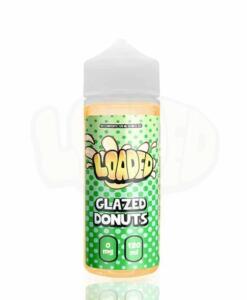 120ML Bottle Size
An always unbeatable value.
Premium Quality
Quality nicotine extracts & only premium ingredients.